INDUSTRIAL TOURS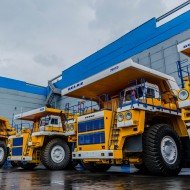 Excursions to the manufacturing facilities are constantly popular throughout the world. Visiting factories, plants, craft workshops and farms is an increasingly popular direction of tourism in Belarus.

Especially for factory lovers and those who want to know of what all these products that surround us are made of, we have gathered the most interesting places of the industrial tourism in Minsk. What can be seen in the factories and plants of the city? Where do unique excursions to the manufacturing facilities offer and are they ready to reveal the secrets of the Belarusian brands? What to try on the brand tasting and what souvenirs to get directly from the assembly line?

Champagne, beer, tractors, precious jewelry – the choice is yours!

When planning an industrial excursion, be sure to check with the organizers. In connection with the production process, plants and factories often have a special schedule for tourists, preliminary registration and registration for the formation of groups is possible, or there are sanitary and hygienic rules (in food production – certainly), which should be known in advance. We will help you to organize everything easily and without hindrance!
---
Showing 1 to 3 of 3 (1 Pages)