MINSK TIME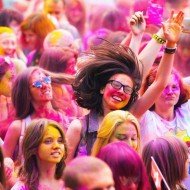 Minsk, the modern capital of Belarus, has not always been a quiet city. In the middle of the last century the best jazz of the Soviet Union resounded here. There were loud murders and mysterious disappearances of people, the party leaders lived like aristocrats, they had a weakness for football, jazz, beautiful women and rumours.
The square with an unusual name "8 March" is the historical center of the city. In the 11th century was built the original center of ancient Minsk – an earth-walled defensive settlement known as Zamchishche.

Trinity Suburb, the Island of Tears, Freedom Square, Victory Square, Independence Square, Oktyabrskaya square, KGB building (the Committee of State Security), the Catholic Church of St. Simon and Helen Church (Red Church), Orthodox Cathedral of the Holy Spirit, Roman Catholic Catherdral of Saint Virgin Mary, Suvorov Military School, National Academic Bolshoi Opera and Ballet Theater, Paris Commune Square, Lenin and Karl Marks Streets, Komarovski food Market (Komarovka), the National Library, Minsk Hero City Obelisk, the Belarusian State Museum of the history of WWII, the Pit Memorial Complex, the Botanical Gardens, Cheluskintsy Park, Yakub Kolas Square. Behind the names of these sightseeing is the centuries-old history of Minsk with the legends, cruel wars, defeats, victories and feats of the Belarusian people.
---
Showing 1 to 6 of 6 (1 Pages)